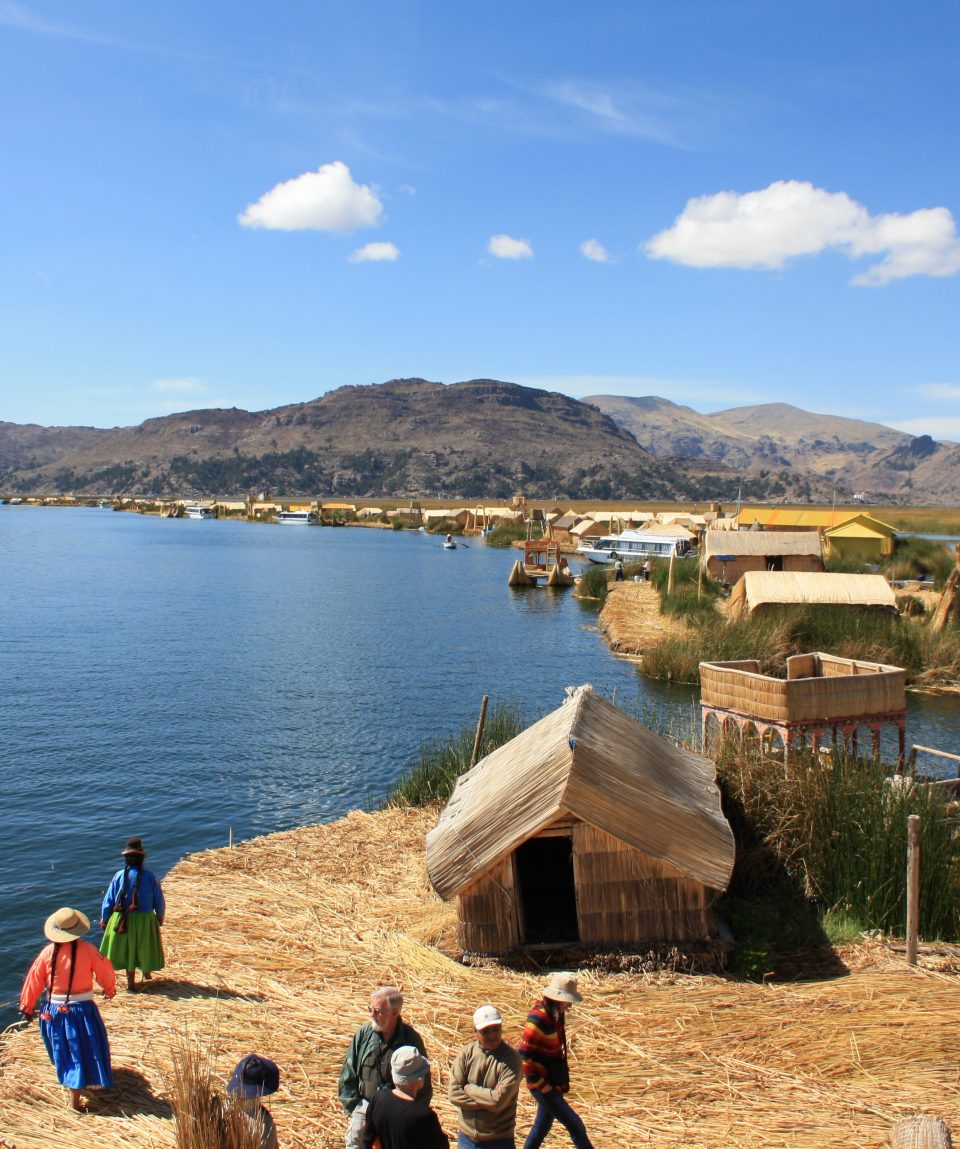 Symbolic Wonders of Peru
Conquistadors, Incas and perhaps beings from other worlds… Even extra-terrestrials? A journey in the footsteps of Inca's empire builders throws up some intriguing surprises.
The Andes are a magnificent mountain range, rich with history and fascinating cultures.  Journey independently through the Sacred Valley and Lake Titicaca, the world´s highest navigable lake.
Porcell Tours advantages
Travel by Vistadome train and stay at Machu Picchu Pueblo, enjoying extra time to explore this spectacular "Lost City".
Feed llamas and alpacas, and learn about weaving techniques at a breeding center for camelids.
Visit historic sites in colorful Cusco during your stay.
Style: Private- shared tour
Duration: 9 days/ 8 nights
Starts in: Lima
Travel Style

Backpacking

Family

Food-wine

Andean, Archaeological sites, Discovery, Family, Jungle, Lake titicaca, Nature, Travel with kids

---
Tour Summary
Day 1. Lima to Cusco/ Cusco to Sacred Valley: en route visit to Chinchero
Day 2. Sacred Valley of the Incas: Pisac market and Ollantaytambo: old fortress & the Quechua lifestyle
Day 3. Free day/ Optional tour to Maras saltpans and Moray crop circles
Days 4/ 5. Machu Picchu / Optional Inca trail hikes/ Return to Cusco
Day 6. Cusco city tour / Massive walls of Saqsaywaman
Day 7. Cusco to Puno/ Racqchi- Andahuaylillas- La Raya
Day 8. Lake Titicaca/ Uros and Taquile islands
Day 9. Departure Juliaca (Puno)/ Lima
What does this tour include?
What is included in this tour?
Items that are included in the cost of tour price.
Private transfer from the hotel to Lima Airport
Accommodation in hotel for 3 nights with breakfast (double basis) in the Sacred Valley
Accommodation in hotel for 1 night with breakfast (double basis) in Aguas Calientes
Accommodation in hotel for 2 nights with breakfast (double basis) in Cusco
Accommodation in hotel for 2 nights with breakfast (double basis) in Puno
Private mobility to and from Ollantaytambo train station
Meals as specified
Train and Bus to Machu Picchu the first day
Tickets to all mentioned places
Titicaca train Cusco- Puno*
Private guide (except in Cusco- Puno route)
Private guide the second day in Machu Picchu
Private transportation (except for Cusco- Puno route and Uros-Taquile tour)
Bottled mineral water
Taxes
What is not included in this tour?
Items that are not included in the cost of tour price.
Air tickets and air taxes
Tours not mentioned
Meals not specified
Unforeseen expenses
Insurance
Tips
Maras and Moray tour
Bus and Entrance ticket to Machupicchu on the second day
*The Titicaca train departs from Cusco on Wednesdays, Fridays and Sundays. Subject to availability.
Day 1

Lima to the Sacred Valley

Fly to Cusco in the morning. Reception and transfer to your hotel in the enchanting Sacred Valley. On route stop at Chinchero, a small Quechua town and visit one weaver center,  learn about the valuable fibers created from the camelids' fur as well as the ancient weaving techniques still used today.

Night in Sacred Valley.

Day 2

Sacred Valley

Enjoy a full day tour in this striking region. Shop for handicrafts in the markets of Pisac; explore the impressive Inca fortress at Ollantaytambo, visit an Andean house in this old Inca city where a family will welcome you.

Night in Sacred Valley.

Day 3

Sacred Valley

Enjoy this day at leisure or take an optional tour to Maras and Moray. The saltpans of Maras have been used since pre-Inca times for the extraction and storage of salt. The views over this site are lovely as the pools show a variety of colours due to the sun's reflection. Afterwards continue on to Moray and discover the circular terraces, which are thought to be Inca 'botanical laboratories'.

Night in Sacred Valley.

Day 4

Sacred Valley to Machu Picchu

Journey deep into the Andes toward Machu Picchu via the glass-topped Vistadome train, passing through spectacular Peruvian countryside along the way. Arrive with plenty of time to begin exploring the breathtaking Incan city. Machu Picchu forever holds the secret of its passing; its Incan inhabitants left no written records of its purpose or its impeccable construction.

Night in Machu Picchu Town (Aguas Calientes).

Day 5

Machu Picchu to Cusco

Return to Machu Picchu to explore the 'Lost City of the Incas'; this morning you will be at your leisure. You may opt for a hike to Inti Punku (Sun Gate), the entry point to the ruins from the Inca Trail, or trek up to Huayna Picchu, the high mountain that forms the backbone of the ruins. After your explorations, journey back to Cusco aboard the Vistadome train, savoring incomparable views of the mountain scenery. Returning to Cusco by train and road.

Night in Cusco.

Day 6

Cusco

Today we are visiting the highlights of Cusco including the Plaza de Armas, Santo Domingo Church and the Inca fortress of Sacsayhuaman. Stroll in this ancient city decorated with cobblestoned streets.

Night in Cusco.

Day 7

Cusco to Lake Titicaca

Board the Titicaca train*. Marvel at the changing landscape during this 10-hour rail journey to Puno on the shore of Lake Titicaca.

Night in Puno.

Day 8

Lake Titicaca

Enjoy an unforgettable day cruising on this vast lake. Visit the remarkable floating Uros Islands and Taquile Island.

Night in Puno.

Day 9

Puno/ Lima

Transfer to the airport.
End of our services.
Hotels
These are some of the hotels we work with, although it is true there is a great list, we choose serious, responsible hotels that are always renewing quality in all their services. You can find very beautiful standard hotels or superior to luxury hotels strategically located in unique places for your visits and adventure. We are committed to offering hospitality and placing you, our guests, at the center of the stage in Peru.
LIMA:
Belmond Miraflores Park Hotel.- Located in the most attractive district of Lima, it has a lush garden, an outdoor swimming pool with ocean views and all the comforts of a luxury hotel. Belmond Miraflores Park is a true urban sanctuary next to the city's cultural treasures.
---
Jose Antonio Deluxe Lima.- Modern, attentive and with a strategic location, the hotel invites you to discover the best of Miraflores and Lima.
---
Allpa.- Allpa Hotel & Suites is located in the heart of Miraflores district. It has easy access to the main attractions of the city of Lima. It offers modern rooms with free Wi-Fi and a restaurant. All rooms are spacious, have LCD TV and minibar. All have a private bathroom and some have a bathtub.
---
VALLE SAGRADO:
Tambo del Inka.- This luxury establishment located in the Sacred Valley of the Incas, is the only hotel in Urubamba that has a private train station with connections to Machu Picchu. The establishment has a swimming pool and spa. The rooms are elegant and feature regional fabrics and a typical local design. All have a private balcony with views of the natural environment, LCD TV, exclusive marble bathroom. A buffet breakfast is offered daily.
---
Tierra Viva Valle.- This establishment is part of Tierra Viva hotels chain and is located in Urubamba, in the heart of the Sacred Valley, 60 km from the center of Cuzco and only 11 km from Ollantaytambo, the starting point to reach Machu Picchu and the last train station before reaching the citadel. There is parking. The architecture of Tierra Viva Sacred Valley Urubamba follows the typical design of the rural areas of Cuzco. The rooms are designed with a mixture of wood that gives them a warm and cozy atmosphere. They have heating and private balcony or terrace overlooking the valley. It has a total of 36 superior double and double rooms. All rooms have private bathroom, large or extra large orthopedic mattress, LCD cable TV, telephone with national and international call service and free Wi-Fi.
---
MACHU PICCHU:
Tierra Viva MachuPicchu.- The hotel features stunning views of the surrounding hills. It is a 5-minute walk from the bus station and has comfortable and quiet rooms with air conditioning. It offers a panoramic solarium and free Wi-Fi access throughout. The rooms are very quiet and equipped with private cable TV, minibar and private bathroom with shower. Some offer views of the hills. Cusco train station is a 10-minute walk away.
---
Sumaq MachuPicchu.- This luxury hotel offers a privileged location along the Urubamba River and only 20 minutes by bus from the archaeological zone of Machu Picchu. It offers comfort, elegance and tranquility, in addition to an Andean design. There is free WiFi. It offers spacious and luxurious rooms with seating areas. All have cable TV and heating. Some rooms have a private balcony with views of the mountains and the Urubamba River. The Qunuq à la carte restaurant serves Peruvian cuisine. Guests can also enjoy a drink at the Suquy Cafe & Bar. Guests can enjoy total relaxation at the Aqlla Spa.
---
CUSCO:
Monasterio Hotel.- This former monastery of the year 1592 offers luxury colonial-style accommodation around a patio. It is located in the historic center of the city of Cusco, 2 blocks from the Plaza de Armas. The walls of Belmond Monasterio Hotel are decorated with works of religious art. The rooms are equipped with TV and Wi-Fi. Oxygen-enriched rooms are also available. It is located 5 km from Velasco Astete airport and 20 minutes by car from Poroy train station.
---
Xima Hotel.- Xima Cusco Hotel is right in front of the largest craft market in the city. It offers modern rooms with buffet breakfast included. All rooms are equipped with a flat-screen LCD cable TV. Some have a balcony. There is also free wired internet connection in all facilities. In addition, it has a spa where special treatments and relaxing massages are offered in a unique environment, using special elements and techniques of the Inca culture that revitalize the body, mind and spirit. The spa also has a sauna, hot tub and special oxygen room.
---
Casa Don Ignacio.- This hotel is located in Cusco and offers elegant decoration, Wi-Fi connection and daily buffet breakfast. The rooms have a flat-screen TV with cable channels. In addition, the private bathroom includes a shower, free toiletries and towels. Some rooms have a balcony with city views. Don Ignacio is an 8-minute walk from Cusco's main square. The accommodation features luggage storage and is 6 km from Alejandro Velasco Astete International Airport.
---
PUNO:
Libertador Lake Titicaca.- The rooms of this hotel are elegant, spacious and equipped with air conditioning, TV, minibar and private bathroom. In addition, they have beautiful panoramic views of Lake Titicaca.
---
Jose Antonio.- Jose Antonio Puno Hotel offers comfortable accommodation and a restaurant. It also provides wifi connection. All rooms include heating, private bathroom, cable TV, balcony overlooking Lake Titicaca and daily breakfast.
---
Hacienda Puno Hotel.- Located 1 block from the main square and Puno Cathedral, it offers free Wi-Fi and free private parking. It houses a sky restaurant with panoramic views of Lake Titicaca, which is 5 minutes by car. The rooms at the Hacienda Puno feature a TV, desk and bathroom with marble elements and toiletries.
Chinchero is 3,700 meters above sea level, it is a small city with about 4 thousand inhabitants. Here the new Cusco airport will be built. The Sacred Valley has an average height of 2,800 m.a.s.l.
They are two places that can easily be visited from the Sacred Valley. Maras is known for its more than 5 thousand salt pools, it is called "las salineras". Moray is an archaeological site with a unique construction in the form of circles, it is believed that they were centers for agricultural experimentation of the time of the Incas, although others believe that they conformed a gigantic cosmic antenna.
From the citadel of Machu Picchu, known as the "Llacta" in Quechua, which means "Town", you can easily reach the Sun Gate or Inti Punku in just 1 hour of walking. This place was the last checkpoint of the Inca trail before reaching the Llacta of Machu Picchu. From Inti Punku you will have an extraordinary view of the surroundings of Machu Picchu with the Urubamba river winding in the valley and the mountains that surround and "guard" the citadel.
This is a train with dining cars decorated in the style of the exclusive pullman wagons of the twenties. Aboard you will enjoy musicians who will accompany you throughout the journey with national and international songs. In addition, during the trip, you will enjoy a mid-morning snack, a gourmet lunch and an afternoon tea. The quality of the personalized service is guaranteed in an exclusive experience full of luxury and a mystical connection with nature.
They are a set of habitable artificial islands built of totora, an aquatic plant that grows on the surface of Lake Titicaca. The construction of these islands is done by weaving the cattails in the areas where it grows denser, forming a natural layer, on this layer they build their homes, also from a woven totora mesh which they call "mat". Each house is composed of only one room. Its residents cook outdoors to avoid fires.